Friday, December 9, 2011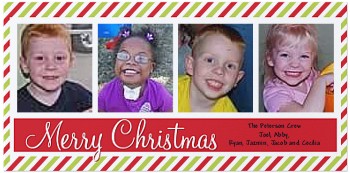 Seasonal Stripes Christmas

Posted by

mom2ryanjakejazandcecilia
at 12/09/2011
No comments:

Monday, November 1, 2010
These posts may seem random, but I'm trying to get the blog up to date without missing too many important summer events. I can only post as often as I get enough time to do so, and since I seem to be having issues with blogspot photo and editting, it's been a bit frustrating. Keep checking back, I'll get it up to date by the time the year's up.
Joel's Bass he caught, Cecilia was very intrigued by it.
Jacob's Northern fish he caught with his spiderman fishing pole. The pole caught the fish, and then Bapa Bryce caught the pole! Not bad for the first fish he's ever caught!
Jacob and Daddy nightime fishing.
Saturday, October 30, 2010
This summer Joel coached on Ryan's t-ball team. There were 27 teams in the league, and like 13 kids per team I think. Man that's a lot of t-ballers. It was some of the funniest things I saw all summer going to those games. One kid would hit the ball, and the entire opposing team would chase after it to see who could get to it first. Sometimes there was even "fighting" among teammates over who got to have the ball, and carry it over to the base, or the coach, or their parent, or whatever they decided to do with it. By the end of the "season" they started to understand the concept of the game and were able to hit the ball and run the bases without to much prompting. It was well worth the effort involved getting there right after work/supper etc, and we can't wait til next year to have both boys and possibly even Jaz playing as well.
Posted by

mom2ryanjakejazandcecilia
at 10/30/2010
No comments: